By Ryan Jopp, Swinburne University of Technology
Tourists are drawn to cities by a myriad of attractions and activities. Some cities are blessed with iconic attractions that are on every visitor's "must see" list – the Opera House and Harbour Bridge in Sydney, for example.
Other cities rely on a more eclectic mix of "sights and sounds" to lure increasingly well-informed and diverse visitors. For instance, Australia's second-largest city, Melbourne, has at various times promoted itself as the nation's "sports and events capital", the "arts and culture capital" and, more recently, as the "street art capital".
Street art, also known as graffiti, has not always had strong community support. The proliferation of the "art form" has many strident critics. For example, Graffiti Hurts spokesman Scott Hilditch complained that funding a mobile phone app to guide users around Melbourne street art sites would glorify graffiti vandalism.
Yet there is no denying the growth of street art and the popularity of sites around inner-city Melbourne. On a sunny afternoon in the city's laneways, you are likely to see a range of local and international visitors, some posing for photos in front of freshly painted walls, others passing by on their way to a nearby cafe for a flat white.
You may see see local "artists" guiding groups on street art tours. You may even see newlyweds looking for that quintessentially Melbourne photo for their wedding album.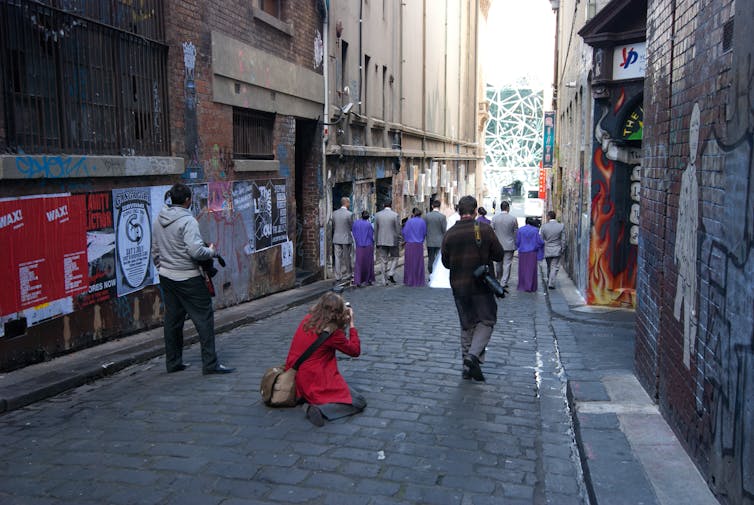 Despite questions about the legality, and perhaps morality, of street art, its popularity is undeniable. Melbourne's laneways and their street art have become a major drawcard. In a 2008 Lonely Planet poll, Melbourne's laneway street art was voted Australia's top "cultural attraction".
If social media counts (which it most certainly does), Hosier Lane, the epicentre of Melbourne street art, has arguably become the city's premier tourist destination. It attracts significantly more Instagram hashtags than traditional destinations like Melbourne Zoo or Federation Square.
Regardless of social and political disapproval, the proliferation of Melbourne's street art does provide a point of distinction in an era of growing competition between cities.
City destinations are having to find new and creative ways to distinguish themselves from the rest. Numerous local and international websites, blogs and books have recognised Melbourne as Australia's "street art capital" over the past decade.
In turn, street art images have been selectively packaged and promoted to boost the city's "creative" and "vibrant" image. The Melbourne City Council website recognises "the importance of street art in contributing to a vibrant urban culture", and acknowledges:
Melbourne's street art has become internationally renowned and has become an attraction for local and overseas visitors experiencing Melbourne's creative ambience.
Despite this, the council seems at pains to differentiate between "graffiti" and "street art". Melbourne City has a web page explaining to both artists and property owners the legalities of street art.
The council refers to research and community consultations as the basis for its Graffiti Management Plan. According to its "Street Art" webpage, these revealed that:
… most people do not like graffiti 'tagging' … However, many people appreciate 'street art' such as larger, more artistic pieces, or murals placed in appropriate locations with the required permission.
However, trying to separate the two is problematic. Many street artists engage in both forms of "writing" – the term street artists use to describe their production of graffiti or street art.
Although it's broadly recognised by the City of Melbourne as adding to the city's cultural aesthetic, relatively little is understood about the economic value of street art. Measuring its economic value to the city is challenging. But creative tourism forms such as this clearly have their merits as tourists increasingly seek out "alternative public spaces" in search of creative landscapes and authentic experiences.
Thus, it's possible that creative tourism is more valuable than conventional tourism.
Certainly, Melbourne is increasingly well known for its "laneway galleries", however challenging the management of this ephemeral attraction might be for governments.
---
READ MORE: The future of photography
---
Ryan Jopp, Lecturer in Tourism and Management, Academic Director (Education Quality and Assurance), Swinburne University of Technology
This article is republished from The Conversation under a Creative Commons license. Read the original article.