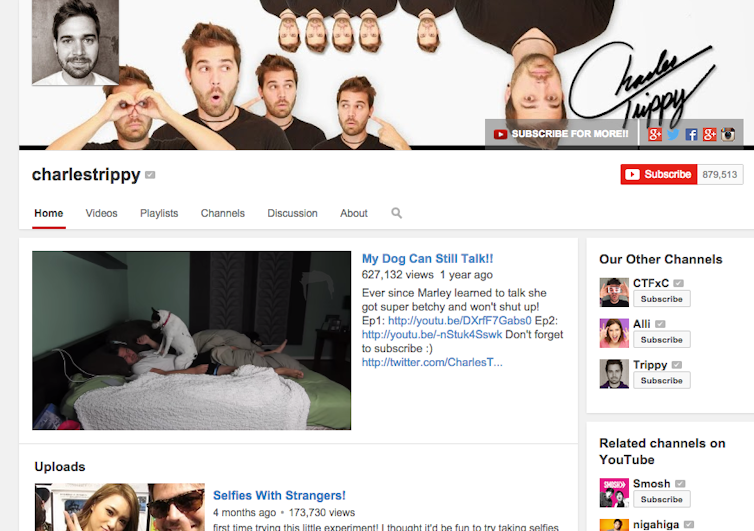 Darryl Woodford, Queensland University of Technology and Katie Prowd, Queensland University of Technology

It might be ancient in social media terms but YouTube – which has been around since 2005 – continues to capture popular attention, with a number of internet entrepreneurs successfully building careers for themselves, through skits or by documenting their daily lives.
But from an academic perspective, YouTube is difficult to study.
Lacking the detailed API functionality of networks such as Twitter and Facebook, gathering data over time requires interested parties – whether research or commercial – to either take snapshots at regular intervals, or to receive authenticated access to the users own analytics.
To build their public profiles, many of these YouTubers rely on platforms other than YouTube. This makes it possible for us to investigate the points in their YouTube career which propelled their profiles.
As Jean Burgess and Joshua Greene have documented in their seminal book on YouTube – YouTube: Online Video and Participatory Culture (2013) – once you look beyond the large multinationals and traditional media companies, the "most subscribed" list heavily features "YouTubers" – people who built their careers through the platform. The YouTube star PewDiePie is just one example among many.
As they note, achieving this type of success is frequently linked to engagement with the YouTube community. Often this engagement goes beyond YouTube itself, and into platforms such as Twitter.
Previously, we have used Accession Charts as a way of measuring follower growth on Twitter. This methodology is also useful as a proxy for users on other platforms. Essentially, we are able to estimate the date at which a particular user followed a Twitter account by using the date a user joined the platform combined with the order in which they followed the target account.
The below chart, for YouTuber Charles Trippy, who has channels for both skits and vlogs, is an example of this.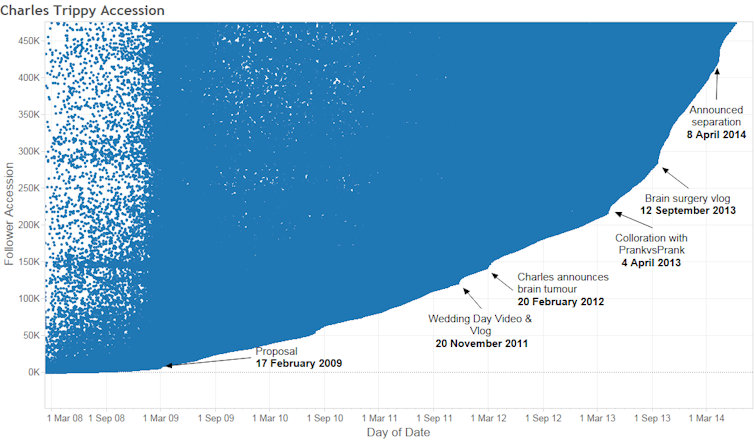 In addition to being a member of the band We The Kings, Charles is also a daily vlogger with five YouTube channels, including his main channel CTFxC which receives between 300,000 and 2 million viewers per video on average. In the graph above we have mapped his growth in Twitter followers to key events in his YouTube career, including a spike around a proposal video he posted in 2009, which went viral across both online and traditional media.
Other spikes were also linked to key events; on 20 November 2011 Charles and partner Alli married, with their wedding hashtag #CTFxCWedding trending worldwide. That caused a steep incline in followers in short period of time. A 2012 announcement that Charles had been diagnosed with a brain tumour, and his vlog of the actual brain surgery, caused a further increase in followers on Twitter. (It also hit traditional media).
The CTFxC channel has obviously connected with people on a personal level, with peaks being related to serious, personal situations that allow users to feel such a connection.
Collaborations also cause a noticeable increase.
In the case of Charles Trippy, an April 2013 collaboration with popular YouTubers PrankVsPrank shows a noticeably different pattern to his general growth, with a larger proportion of Twitter users with older accounts (presumably PrankVsPrank subscribers) beginning to follow, as seen in the graph below: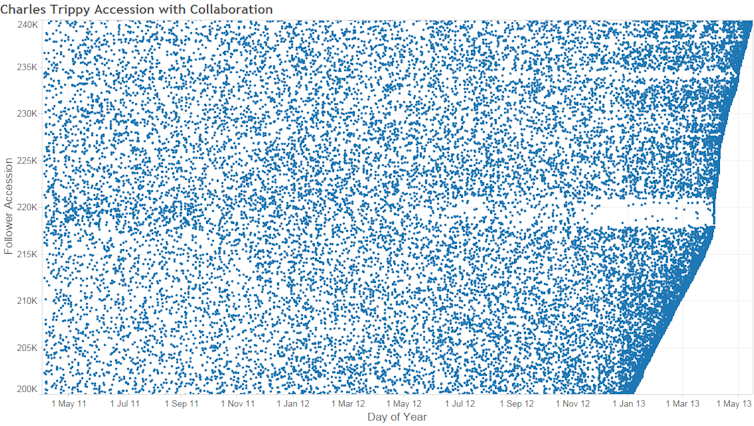 The importance of collaborations is even more evident for smaller YouTubers, as seen on the below graph for Canadian YouTuber Corey Vidal, who also records both skits and vlogs with his production company, Apprentice A, as well as organising Buffer Festival:
The two key growth periods here (October 2011 & January 2013) are directly related to collaborations; firstly the filming of the Charles Trippy wedding video, and secondly the announcement of the motion picture "I'm Vlogging Here" (now "Vlogumentary") in collaboration with ShayCarl:
For those featured in the Vlogumentary video, many of whom are reported to earn six figure incomes through YouTube, the maintenance of a personal relationship with the audience is significant. It leads to the establishment of a loyal audience; indeed, many of the most consistently successful YouTubers are the daily vloggers.
On the flip side however, Charles Trippy's subsequent break-up with Alli Speed led to strong reactions from their viewers, and the impact of this on follower growth will be interesting to monitor.
The take-home: for newcomers, and those looking to build YouTube careers, making connections and collaborations with established YouTubers is a great place to start.
Darryl Woodford, Postdoctoral Research Fellow, Queensland University of Technology and Katie Prowd, Assistant Data Analyst, Queensland University of Technology
This article is republished from The Conversation under a Creative Commons license. Read the original article.